Welcoming a new life into the world is one of the most profound transitions a person can experience. But with this joyous occasion can come a whirlwind of emotions, some of which may feel overwhelming and unexpected. The postpartum period is not only a time of physical recovery but also a crucial stage for mental and emotional realignment. A postpartum psychiatrist had to walk alongside many individuals during this transformative period, offering guidance and support. In this blog, we will dive deep into the role of a postpartum psychiatrist, how they help people around and what are some actionable tips to help ensure mental wellness after birth.
Who Is A Postpartum Psychiatrist?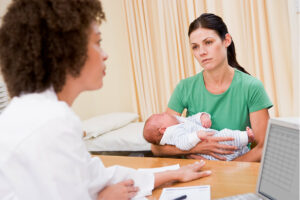 A postpartum psychiatrist is a medical doctor who specializes in the diagnosis, treatment, and prevention of mental health disorders that can emerge during the postpartum period. This typically refers to the weeks and months following childbirth. These professionals have extensive training in general psychiatry. But with a specific focus on the unique hormonal, physiological, and emotional changes that occur after giving birth.
Their expertise allows them to distinguish between normal mood variations after childbirth. Such as the "baby blues", and more serious conditions like postpartum depression, postpartum anxiety, and other perinatal mood and anxiety disorders (PMADs). The role of a postpartum psychiatrist is crucial, as the transition to parenthood can be accompanied by a range of emotions. Their holistic approach ensures that new parents receive the support and care they need to navigate this significant life transition, promoting their well-being.
What Is The Role of a Postpartum Psychiatrist?
The role of a postpartum psychiatrist is multifaceted, centering around the mental health needs of individuals in the postpartum period. Here's a detailed explanation of their role:
A postpartum psychiatrist is trained to identify and differentiate between common post-birth mood variations and more severe perinatal mood and anxiety disorders (PMADs). They use clinical interviews, psychological assessments, and other diagnostic tools to understand the depth and nature of a patient's condition.
Individualized Treatment Plans
Based on the diagnosis, they create personalized treatment plans that can include therapy, medication, lifestyle changes, and other interventions. They consider factors like breastfeeding and the unique physiological changes during the postpartum period when prescribing medications.
For some postpartum individuals, medication may be a necessary component of treatment. The psychiatrist monitors the patient's response to medication. And, ensuring it's effective and adjusting dosages or changing medications as needed, always considering the safety of both mother and baby.
They educate patients, families, and other healthcare providers about the challenges of the postpartum period, helping to destigmatize postpartum mental health issues. This education fosters a supportive environment for the new parent.
Collaboration with Other Healthcare Professionals
Postpartum psychiatrists often collaborate with obstetricians, pediatricians, therapists, lactation consultants, and other professionals. This ensures comprehensive care, addressing both the mental and physical health of the postpartum individual and the baby.
Mental health issues might not resolve immediately after the initial postpartum period. These psychiatrists provide ongoing care, tracking the progress of their patients, adjusting treatments as necessary, and ensuring that individuals transition smoothly through the challenges of new parenthood.
In essence, the role of a postpartum psychiatrist is to provide holistic, specialized care to individuals facing mental health challenges after childbirth. Ultimately, ensuring their well-being and fostering a healthy parent-child bond.
How To Find A Postpartum Psychiatrist Near Me?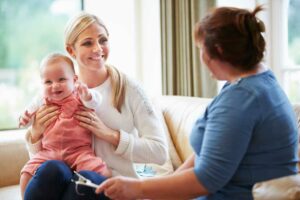 Finding a postpartum psychiatrist near you requires a combination of research, referrals, and considering personal factors to ensure you get the best care tailored to your needs. Here's a step-by-step guide to help you in your search:
Ask Your Obstetrician or Midwife: Start with the healthcare professionals you're already in contact with. They often have networks of mental health professionals specializing in perinatal care and can provide referrals.
Primary Care Physician: Your regular doctor can also be a resource, offering recommendations or referring you directly to a psychiatrist specializing in postpartum care.
Local Hospitals and Clinics: Many hospitals and clinics have psychiatric departments or affiliated professionals. Contacting them can provide leads on specialists in maternal mental health.
Therapy Apps: Platforms like TherapyMantra, MantraCare, and others sometimes have therapists or psychiatrists with specific expertise in postpartum issues.
Contact Your Insurance Provider: They can provide a list of in-network psychiatrists specializing in postpartum care. This ensures that you'll find a professional whose services are covered or at least partially covered by your insurance.
Ask for Recommendations: Friends, family, or local parent groups might have personal experiences and can recommend professionals they found helpful.
Consider Telepsychiatry: If you're having trouble finding someone local, many psychiatrists now offer online sessions, broadening your options. This is especially useful if you're in a more remote area.
Initial Consultation: Once you've identified potential psychiatrists, book an initial consultation. This helps determine if they're a good fit for your needs. Prepare questions about their experience, treatment approaches, and any concerns you might have.
Trust Your Instincts: Remember that the relationship between a patient and psychiatrist is deeply personal. If you don't feel comfortable or understood after a few sessions, it's okay to seek another professional.
Lastly, remember that seeking help is a sign of strength. Addressing postpartum mental health is crucial for both your well-being and that of your baby. So taking the time to find the right professional is a valuable investment in your future.
What Things To Consider When Choosing A Psychiatrist?
Choosing a psychiatrist is an important decision that can greatly impact your mental health journey. Here are some key factors to consider when making your choice:
Psychiatrists often have areas of expertise, such as child and adolescent psychiatry, geriatric psychiatry, addiction, trauma, or mood disorders. If you're seeking help for a specific issue, like postpartum depression, ensure the psychiatrist has experience in that area.
Ensure the psychiatrist is board-certified. This confirms they've undergone necessary training and passed relevant exams in their field.
Psychiatrists might employ various therapeutic approaches, from cognitive-behavioral therapy to psychodynamic therapy. Understanding their approach can help you decide if it aligns with your preferences.
Location and Accessibility
Consider the convenience of the psychiatrist's office location, hours of operation, and whether they offer telepsychiatry (online sessions), especially if you have mobility or scheduling challenges.
A good therapeutic relationship is built on trust and understanding. You should feel comfortable sharing with your psychiatrist and feel they are listening and understanding you.
Check if the psychiatrist accepts your insurance. If they don't, inquire about their fees, potential sliding scale options, or payment plans.
Gender and Cultural Sensitivity
Some people may prefer a psychiatrist of a specific gender or one who understands certain cultural, religious, or gender identity nuances.
Find out how the psychiatrist handles emergencies or crises. It's vital to know you can access support during challenging times.
Remember, the goal is to find someone who feels like the right fit for you. It's okay to switch psychiatrists if you believe another might be a better match for your needs. Your comfort and confidence in your psychiatrist are paramount to your healing and growth.
What Are Some Additional Tips To Help In Postpartum?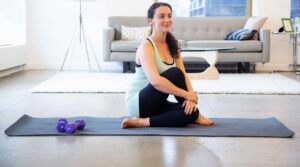 Navigating the postpartum period can be challenging due to the physical, emotional, and hormonal changes experienced. Here are some additional tips to support mental and emotional well-being during this transformative time:
Rest and Sleep: While it might be challenging with a newborn, grabbing sleep whenever possible helps in recovery and mood stabilization. Consider napping when the baby naps or seeking help to allow for short breaks.
Eat Nutritious Meals: Proper nutrition can influence mood and energy levels. Focus on a balanced diet rich in whole foods, and consider consulting a nutritionist familiar with postpartum needs.
Stay Hydrated: Drink plenty of water, especially if you're breastfeeding.
Physical Activity: Gentle exercises, such as walking or postnatal yoga, can boost mood and help the body recover. Always consult with a healthcare provider before starting any exercise regimen.
Limit Isolation: Even short outings or connecting with loved ones through a call can make a difference. Engage in activities that make you feel connected, even if it's virtual.
Set Realistic Expectations: Understand that it's okay to ask for help and that you don't have to do everything perfectly.
Limit Visitors: While it's natural for friends and family to want to meet the baby, too many visitors can be overwhelming. Set boundaries and schedule visits at times that work best for you.
Practice Self-Care: Find moments for yourself, whether it's reading, taking a warm bath, meditating, or simply relaxing. Remember, self-care is not selfish; it's essential.
Limit Social Media: Comparing yourself to others can exacerbate feelings of inadequacy. Remember, most people only share their highlight reel, not the behind-the-scenes challenges.
Communication: Openly communicate with your partner or support system about how you're feeling. Sharing your experiences can lessen feelings of isolation.
Remember, It's Temporary: While the postpartum period can be tough, it's essential to remember that it is a phase, and things will change. Your feelings and challenges are valid, but they won't last forever.
Everyone's postpartum journey is unique. It's crucial to find what works best for you and your family and to seek support when needed. Remember, taking care of your mental health benefits not only you but also your baby and family.
Conclusion
Navigating the postpartum period is a deeply personal journey, characterized by a whirlwind of emotions, challenges, and profound moments of joy. While it's essential to recognize and celebrate the beauty of bringing new life into the world, it's equally crucial to address the complexities of mental and emotional well-being during this time. Seeking guidance can be a beacon of light, ensuring that new parents are equipped with the knowledge and resources to thrive.
Remember, prioritizing mental health during this transformative phase is not just an act of self-care, but a testament to the love and dedication one brings to the sacred role of parenthood. A psychiatrist is a medical doctor who specializes in diagnosis, treatment, and prevention. If you have any queries regarding Online Therapy experienced therapists at TherapyMantra can help: Book a trial Online therapy session